Armenian PowerConverter Details
Armenian PowerConverter
Version 1.0
For Word and Excel
Introduction
Armenian PowerConverter allows conversion of large documents to Armenian/Russian Unicode or ASCII format, by keeping original document formatting, font colors, positions, thickness etc. Converter also keeps document original structure, tables images etc. Converter integrates itself into MsWord and Excel and allows converting any selection or full document by configuring compatible fonts tables.
It is universal and flexible solution that allows configuring settings for all fonts used in documents. Also PowerConverter allows solving coding conflicts (see below) between different fonts, by using special conversion tables.
Installing PowerConverter
WARNING: Administrative rights are required to perform installation.
Run powerconverter_setup.exe and follow screen instruction.
Installation requires Microsoft Office applications to be present at your computer.
Running PowerConverter
From the MsWord or Excel press <![if !vml]>

<![endif]> (ArmConvert) button. The following window will be visible. This allows performing any conversion procedure by selecting text or converting whole document/project. Another way to execute PowerConverter is to use Desktop icon.
<![if !vml]>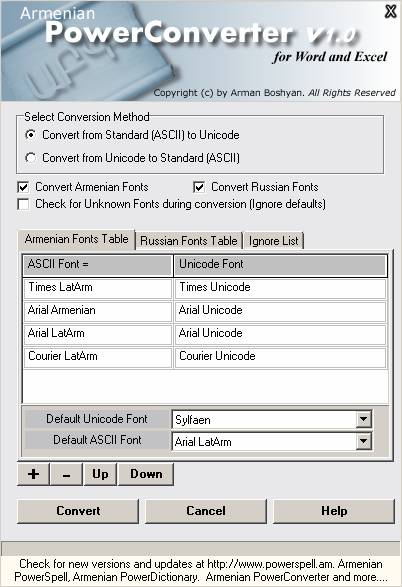 <![endif]>
Configuration Settings
Select Conversion Method

– defines direction of conversion

Convert Armenian Fonts

– check this to enable Armenian fonts conversion

Convert Russian Fonts

– check this to enable Russian fonts conversion

Check for Unknown fonts

– check this to enable query for unknown font, instead of using default settings
Armenian and Russians Fonts Table
Allows defining which ASCII font is similar to corresponding Unicode font. There is also default setting for both cases, which will be used in case if font is not defined in the table.
Press <![if !vml]>

<![endif]> buttons to add/remove entries in the tables.
Double click on row to select font.
Ignore List
Some characters of Armenian or Russian coding contains useful symbols in other non-Armenian/Russian fonts, for example » character in Arial font same as  "ե" character in Armenian ASCII fonts
To solve this problem user should define Ignore List of fonts. This problem is named as coding conflict.
Ignore List defines font names which should be ignored for each direction. Usually it means that conversion from ASCII to Unicode will use Ignore List containing any non-Armenian and non-Russian fonts, this situation defines that language used under font from Ignore List is NOT Russian or Armenian
Why using of ignore list?
Ignore list allows to solve coding conflict between characters for same code in different ASCII tables. It means that you never need to convert Arial font to Armenian, even there are some characters with ASCII code similar to Armenian coding.
Attention: if Armenian or Russian font will be available in ignore list then text with that font will NOT be converted. Be careful when using ignore list.
Program will display red message when some fonts are ignored during conversion
Starting Conversion Process
There is two possible ways to perform conversions
Select text and press Convert

Press convert without selection, in this case whole document will be converted
WARNING: There is NO UNDO for these operations.
Using Mode "Check for Unknown fonts"
In this case program will check each font, and if font is not found it the conversion table program will NOT use default, but will ask user to add entry into the table. The following window will be displayed in case if unknown font is found
<![if !vml]>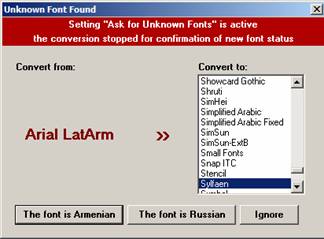 <![endif]>
User must select to which language the font must be attached in the fonts tables.
When converting from Unicode to ASCII the user will see only single choice, because language of the text is detected automatically.
Uninstall
Use Start->Program Files->Armenian Power Office->Armenian PowerConverter->Uninstall application.
Button ArmConvert must be removed manually by pressing Alt button and dragging button to empty space.
Running PowerConverter with Automation
Automated version of PowerConverter allows setting folders and files list from network or local computer, to convert automatically. Automated version does not available in standard distribution.
Please contact us for more details. Contact information available below.
Licensing
There are 2 methods for licensing
Single computer license

Complete license for companies
Please contact +37410 566288